By admin | March 23, 2012
Move your life outside – with a patio roof and an oasis made from glass
Sheltered under Weinor's Terrazza patio roof, you can enjoy life outdoors. The patio roof can quickly be transformed into an oasis of glass flooded with light, with the aid of side glass panels which can be simply and quickly folded away in good weather.
In the countries of southern Europe, people are spending more and more of their lives outside. There, of course, they have the ideal weather conditions to be able to do this. In our latitudes, the weather is unfortunately often unreliable – days spent in the open air in perfect weather are sadly few and far between. In spite of this, why not extend the outdoor season and enjoy your patio from the first days of spring until well into the autumn? Spending happy hours outdoors need no longer be restricted to the summer months and perfect sunny conditions. With suitable weather protection, the patio can be used to its full extent, even during sudden spring showers or when the temperature drops. The Terrazza patio roof from weinor offers a practical waterproof solution. Roofing made from glass or multiwall polycarbonate offers the best protection against rain, ice and snow. And there is no problem with keeping the patio furniture under the roof.
There are a multitude of roof styles and colours to choose from, depending on what you need: a variety of different lean-to roofs are possible and weinor also manufacture trapezoidal and pitched roofs. The Terrazza can also be used as a carport or as an external porch area.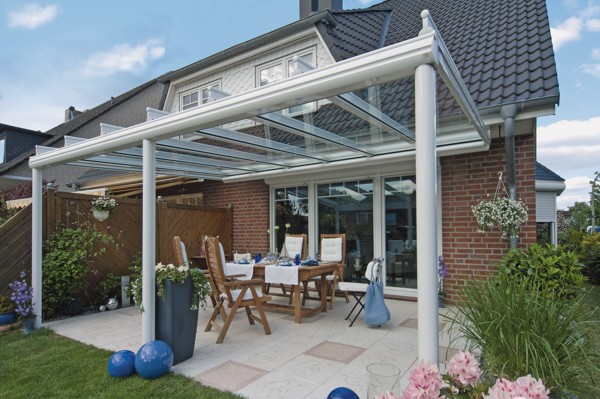 And now there are even more options available to help you realise your personal dream of your own 'patio world'. The Terrazza patio roof has many more facets, thanks to its wonderful versatility. Flexible, transparent side walls made from glass quickly and simply convert the patio roof into an oasis of glass. You are close to nature with a clear view outside and are still perfectly protected in an aesthetically pleasing and attractive glass oasis ambience – now that's the life! The wide choice of glass doors helps you achieve unimpeded access to nature. You can choose between fixed glass, parallel tilt/slide doors, folding panels or a completely glazed sliding door, depending entirely on what you are looking for. You get the optimum outdoor feeling, particularly with the last two options: when they are closed, the fully glazed sliding doors give you a clear view unimpaired by frames. The panes of glass arranged side by side can be completely pushed back against the walls. You can't get closer to nature than that!
You can upgrade your patio roof with the appropriate accessories and become even less reliant on the weather. Cooler evenings can now be spent outside thanks to the Tempura heating system which emits comforting warmth. You can create a cosy atmosphere with soft light provided by the Lux light bar. And a shade fitted beneath the roof, such as the Sottezza awning, offers the right amount of protection from glare. Vertical awnings or textile side walls ensure that feeling of complete privacy. This is the way to create additional versatile space to relax in.
See the Terrazza and Glasoase system from Samson Awnings – click here>
Topics: Outdoor Living | Comments Off on Glass Rooms – Enjoy Life Al Fresco with a Terrazza
« Weinor Glasoase Glass Room | Home | Garage Door Ordering Sizes »